 TOUR GUIDELINES

AND PROCEDURES
TOUR RULES
It is your responsibility to connect and coordinate with the group you are receiving the Flag from and the group you will be delivering the Flag to.
By default, the group delivering the Flag has the lead in suggesting the delivery/arrival time at the receiving group's location ***We expect common sense to prevail and that ALL parties will be mindful of the requests and respectful in the way that they work with each neighboring group. Aggressive or disrespectful behavior will NOT be tolerated and may be grounds for the offending location's removal from the Tour schedule***
All participating locations must designate a Flag Bearer and a main point of contact. These can be the same individual.
The Flag must be handled in strict adherence to the United States Flag Code:
As a 501(c)3 we must have a set of criteria through which we work to select the candidates we're able to help:
Veteran must have been honorably discharged
Veteran must have minimum one legal dependent
Veteran must have a VA disability rating of 50% or more
ALL candidates must complete and return the Financial Assistance Application and Eligibility Criteria.
The Nation of PatriotsTM can accept a variety of payment forms to make it easier for you to raise donations in your area.
We currently accept:
Cash deposits
Personal or business checks
Credit card payments through PayPal
Venmo
We have many locations that raise money during, before and after the Patriot TourTM passes through their area. We encourage this and will support your efforts. There are a variety of ways to fundraise for the NoP and we are open to your ideas. Some examples of what others are doing:
Raffles
Silent auctions
Poker runs
Golf outings
Donation boxes
Asking for voluntary donations from each rider who participates in any part of the Patriot TourTM
There are several different ways your group can send in the donations you raise: Direct deposit, mail to our bank or online.
DIRECT DEPOSIT:
The Nation of PatriotsTM has a bank account with Wells Fargo. You can take cash and checks to any Wells Fargo branch location and deposit donations into our account. We track all the incoming donations and can validate your deposit.
Wells Fargo Account Information:
Account Name: Nation of Patriots, Inc.
Account Number: 7381757249
Routing Number: Provided upon request
If you don't have a Wells Fargo in your area please follow these instructions:
CHECKS:
Send checks to us, as the 501(c)3 entity. The correct address is Nation of Patriots P.O. Box 73 Sussex, WI 53089 or use the bank address below.
CASH:
If you end up with cash donations, please ask a business to take the cash and write you a business check or you can take the cash to a bank and they can give you a cashier's check. *Never send cash in the mail or put the donations into your personal account to write us a personal check.
PAYPAL:
If you use PayPal or you know others that intend to use PayPal, you are responsible for notifying NoP leadership or your representative and providing proper instruction. Otherwise, we may not know to properly allocate the donations to your specific geographic location. The PayPal payee can also include location information in their memo.
MIX:
You are responsible for notifying NoP leadership or your representative and providing proper instruction as to where and from whom the donations are being sent. Otherwise, we may not know to properly allocate the donations to your specific geographic location.
Vermillion State Bank Address:
C/O Jake Poepl
975 Lyn Way
Hastings, MN 55033
TOUR CHALLENGE GUIDELINES
We allocate donations all across the country from the monies generated over any given year. WE CHALLENGE YOU to raise over $1,000 in donations. If you meet this challenge we will work with you to identify, vet and select an injured veteran and his or her family (or families). Every single dollar you raised will be given to them.
This brings everything we do full circle. You lead your community to meeting this goal on behalf of this cause and then you get to put every single penny directly into the hands of a special military family in your area that needs financial support.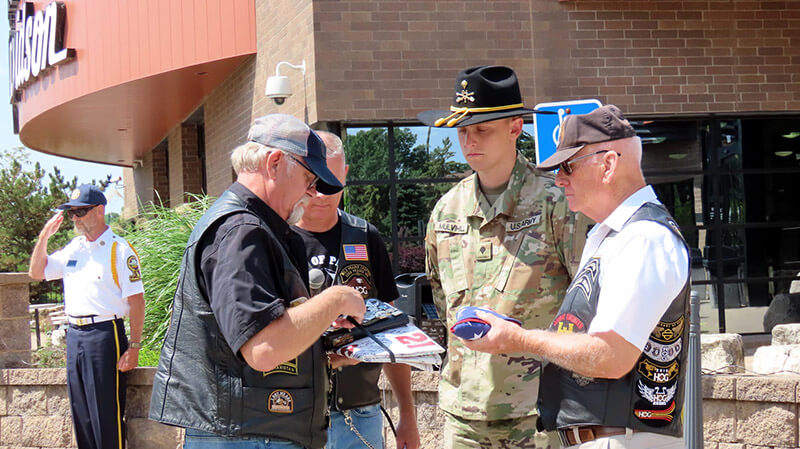 WHAT DOES THE NOP DO WITH DONATIONS?
We track every donation by state and location.
We work with VA hospitals, American Legions, VFWs, other non-profits and many more veteran-associated groups to find, vet and help the military families we support.
Our goal is to raise as much money as possible every calendar year and give it all away by December 31. Funds that we are not able to give out, get rolled over and dispersed throughout the next calendar year.
We do NOT track your donations into the next calendar year. If a veteran need within your community arises, please contact us and we'll do everything we can to assist.